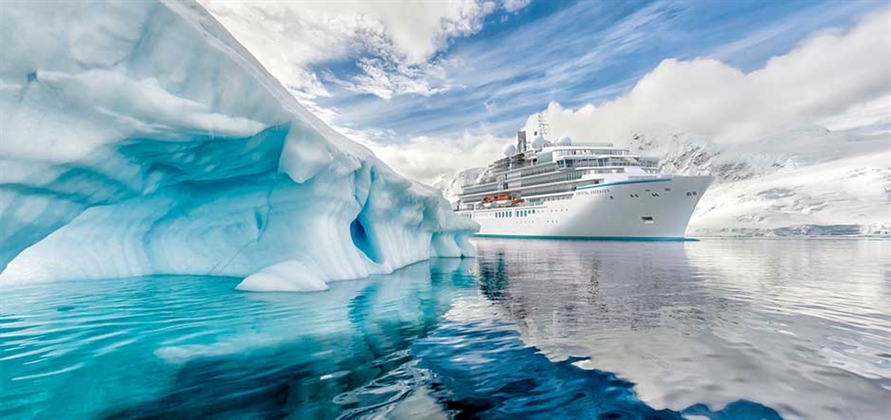 Crystal Endeavor will have capacity for 200 guests in suites, all of which will be served by butlers
Though Covid-19 has created significant difficulties for shipyards across the world, they have shown remarkable resilience to keep newbuilds progressing. Vard's Norwegian shipyard, for example, delivered the sixth and final vessel in Ponant's Explorer-class series, Le Jacques Cartier, on 10 July. The ship features the cruise line's Blue Eye underwater lounge, which has two expansive windows allowing guests to see underneath the waves, and hydrophones built into the keel to capture the sounds of the sea. "These six vessels combining cutting-edge technology and respect for the environment are the symbol of a new generation of ships flying the French flag," said Jean Emmanuel Sauvée, Ponant's CEO.
Italian shipbuilder Fincantieri will soon deliver Silversea Cruises' Silver Moon, which the luxury cruise line will welcome into its fleet in October. At 40,700gt and with capacity to accommodate 596 passengers, Silver Moon will mirror her sister ship Silver Muse with the addition of the new Sea and Land Taste (S.A.L.T.) culinary concept of destination-based experiences. "From 2020, Silver Moon will leverage on the success of our beloved flagship, Silver Muse, to unlock immersive new travel experiences for our guests around the world," said Roberto Martinoli, Silversea CEO. "With a range of pioneering new features that will push the boundaries of luxury travel, Silver Moon will be the most elegant ship in her class."
Costa Firenze, the second Costa Cruises' vessel to be designed and built specifically for the Chinese market, is scheduled for delivery by Fincantieri on 30 September 2020. "We aim to bring the beauty of the Italian lifestyle to Chinese guests, offering them an authentic Italian vacation experience," said Vanessa Li, vice president of marketing for Costa Group Asia. "Together with Costa Venezia, the arrival of Costa Firenze will help boost the development of the Chinese cruise industry."
Launching in November 2020, Crystal Cruises' first expedition cruise ship Crystal Endeavor will have capacity for 200 guests in suite rooms, all of which will be serviced by butlers. The vessel will also feature expedition-specific spaces and services including designated mud rooms, a helicopter lounge and a submersible. "We know that the most adventurous luxury travellers are eagerly awaiting the unforgettable experiences that lie ahead, just as we are," said Tom Wolber, president and CEO of Crystal Cruises, as the ship was floated out at MV Werften shipyard in January. "The team at MV Werften has beautifully brought our vision into reality and it is a wonderful moment to see this groundbreaking ship on the water."
Meanwhile, Quark Expeditions' polar expedition vessel Ultramarine was floated out at Brodosplit's shipyard in Croatia in May. The ship will have capacity for up to 200 passengers and feature two helidecks for twin-engine helicopters, a wellness centre and a lecture theatre. "The sound of Ultramarine's hull entering the water from slipway No. 2 into Supaval Bay signified we're one step closer to exploring the polar regions on this game-changing ship," said Andrew White, president of Quark Expeditions, at the launch ceremony. "It's not just any ship that we're celebrating today, but a ship built specifically for polar exploration. Ultramarine will be an unrivalled operational base for exploring the polar regions in ways never thought possible."
Australian cruise line Coral Expeditions will take delivery of its fourth expedition ship Coral Geographer in January 2021. Like her sister ship Coral Adventurer, the 120-passenger vessel features a shallow draft to allow her to visit destinations unreachable by larger ships. However, the new ship will also feature an increased number of bridge deck suites with horizon bathtubs. "We are confident in the ongoing strength of the expedition sector along with the vessel's size, her design and her capabilities," said Mark Fifield, group general manager of Coral Expeditions. "She represents the perfect balance between being large enough for ocean voyaging yet having a small and intimate ship feel to maximise our guest experience."
Though Royal Caribbean International's Odyssey of the Seas has been delayed until April 2021 by the pandemic, construction work continues on the ship at Meyer Werft shipyard. The Quantum Ultra-class ship is now set to debut in Rome, Italy, with features including SeaPlex, the largest indoor activity centre at sea. "Odyssey of the Seas will set an all-new standard created to deliver the most memorable holidays," said Michael Bayley, president and CEO of Royal Caribbean International. "This Quantum Ultra Class-ship introduces a new way to see the world as she becomes our first purposefully built vessel for island-hopping on both sides of the Atlantic."
Carnival Cruise Line's new flagship Mardi Gras is now scheduled for delivery by Meyer Turku in 2021 and will be the first cruise ship to use LNG in North America. She will also feature six themed zones, including a new atrium concept and the first roller coaster at sea, BOLT. "We can't wait for our guests to experience Mardi Gras, a one-of-a-kind ship that is a true game changer which continues the evolution of the Carnival vacation experience," said Ben Clement, Carnival's senior vice president of newbuilds.
Also arriving in 2021 is MSC Cruises' MSC Virtuosa, the second Meraviglia Plus-class cruise ship. The ship will debut the new Vietnamese-French dining concept Indochine, along with the first humanoid bartender at sea. With the indoor promenade Galleria Virtuosa, MSC Virtuosa will break the record set by her sister ship MSC Grandiosa with 1,168 metres squared of retail space, the largest shopping area on any cruise ship.
Scenic Cruises' second discovery yacht, Scenic Eclipse II, is currently under construction at Uljanik shipyard in Pula, Croatia. The ship is identical to her sister ship Scenic Eclipse, and will sail its maiden voyage from Athens, Greece to Lisbon, Portugal. With 114 all-veranda suites, a marina deck and a submarine, the ship will take guests to the European and Russian Arctic in its debut season.
Celebrity Cruises will continue its innovative Edge Series when Celebrity Beyond is delivered in autumn 2021. "With Celebrity Beyond, we're charting new territory once again," said Lisa Lutoff-Perlo, president and CEO of Celebrity Cruises, as the first piece of steel was cut at the Chantiers de l'Atlantique shipyard on 28 January 2020. "While we can't say much just yet, with Celebrity Beyond, three's the charm."
This article was first published in the Autumn/Winter 2020 issue of Cruise & Ferry Review. All information was correct at the time of printing, but may since have changed.
Subscribe to Cruise & Ferry Review for FREE here to get the next issue delivered directly to your inbox or your door.
Share this story