There's a reason Alexis Lafreniere cards have been popular in the hockey world for a while now. He's been the favorite to go first overall in the 2020 NHL Draft for several years now, likely the highest profile prospect the game has seen since Connor McDavid. Upper Deck saw this and locked him up to not only an exclusive autograph deal in March 19, but made him the company's youngest spokesman as well.
While still 16, Lafreniere was selected to represent Canada at the IIHF World U18 Championships, the youngest player to do so. After making his World Juniors debut in the 2019 tournament, he returned the following year to help lead Canada to the gold medal. With four goals and ten points in five games, he was named the tournament MVP.
In his first season with the Rimouski Oceanic in 2017-18, Lafreniere scored 42 goals, earning CHL Rookie of the Year Honors as well as a spot on the QJMHL First All-Star Team. Throughout his time on the Oceanic, the left winger has averaged around 1.5 points per game.
If you're looking for Alexis Lafreniere cards, you can find them on the Beckett Marketplace as well as eBay.
Key Early Alexis Lafreniere Cards
This is not a full checklist of Alexis Lafreniere cards. Rather, it highlights some of his top early cards from before his NHL career. A checklist of Alexis Lafreniere cards is available in the Beckett database and price guide.
2017-18 Upper Deck CHL Alexis Lafreniere #390
Typically, minor league cards don't get a lot of love. Alexis Lafreniere isn't your typical hockey prospect, though. 2017-18 Upper Deck CHL marks his first card. It's also the only product Lafreniere appears in that year. And while he has a couple of other cards on the checklist, there aren't a lot. Taking an approach that's similar to the flagship Upper Deck Hockey line, there's some familiar elements. Star Rookies aren't exactly Young Guns, but that's a good thing. That said, the subset has been used elsewhere and in other sports, so there is a connection. The Exclusives (/100) and High Gloss (/10) parallels are a more direct connection to Upper Deck Hockey.
Lafreniere is a high number short print. For the product, they're fairly common at 1:1.5 hobby packs. However, with 100 to chase, it does somewhat limit the number that are available at any given time, even when factoring e-Pack.
Parallels: Red, Rainbow, Exclusives (/100), High Gloss (/10), Printing Plates Black (1/1), Printing Plates Cyan (1/1), Printing Plates Magenta (1/1), Printing Plates Yellow (1/1)
Buy on: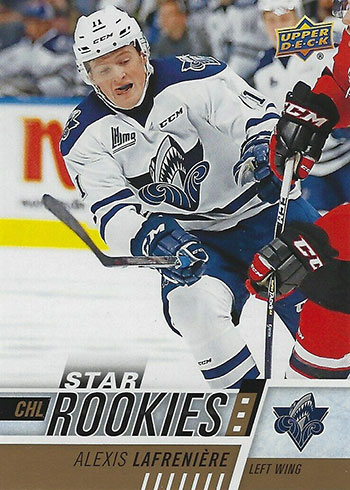 ---
2017-18 Upper Deck CHL Autographs Alexis Lafreniere #390 (Group A)
Essentially a parallel of the base card, this with forever be notable for being the first Alexis Lafreniere autograph card. Part of the tough Group A signatures, it also has some added rarity. Prices for this card are already strong. But the bigger challenge might be finding one for a price you're willing to pay.
Buy on: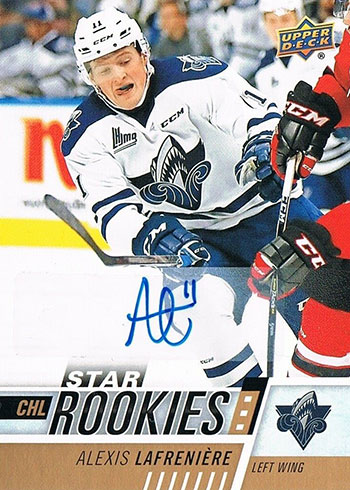 ---
2018 Upper Deck Singles Day Winter Alexis Lafreniere #W8
As one of Upper Deck's exclusive spokespersons, it probably isn't surprising that Lafreniere is on the 2018 Upper Deck Singles Day Winter checklist. But it is impressive. Upper Deck designed the set to help hobby shops during the busy holiday season. The prospect, pictured in his Team Canada gear, is featured alongside the likes of Wayne Gretzky, Connor McDavid, Michael Jordan, LeBron James, Tiger Woods, Serena Williams and more in the multi-sport set.
Upper Deck also used the set as part of a UD Bounty program meaning there's a scratch-off area on the back. That's something to consider and potentially ask about if you go to look for one on the secondary market.
Parallels: Winter Green (/99), Winter Frost (/25)
Buy on: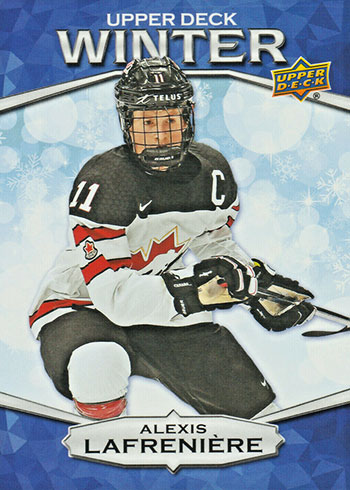 ---
2018-19 Upper Deck CHL Autographs Achievements Alexis Lafreniere/Quinton Byfield/Wayne Gretzky/Mario Lemieux #QA-2
This card has a lot of star power on it. Lafreniere's autograph is paired with that of fellow top 2020 NHL Draft prospect Quinton Byfield on the front. On the back? Just Wayne Gretzky and Mario Lemieux signatures. This quad autograph isn't available in packs. Limited to ten copies, it's an extremely challenging Achievement card through Upper Deck's e-Pack platform. It's available to the first ten to complete five 2018-19 Upper Deck CHL 2000-01 Retro Achievements on e-Pack. Basically, it amounts to completing various other sets including the Silver parallels.
Buy on: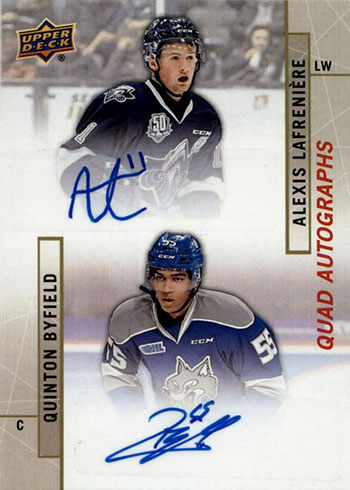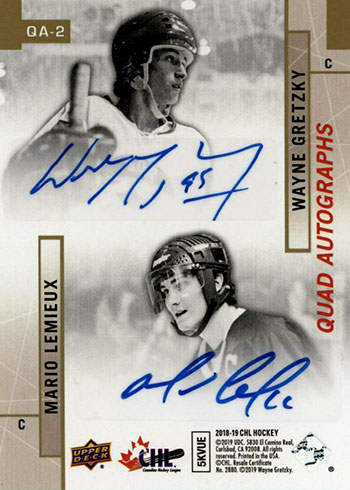 ---
2018-19 Upper Deck Team Canada Juniors Premium Swatch Autographs Alexis Lafreniere #25 /125
The Premium Swatch Autographs have become the gold medal standard in Upper Deck's Team Canada Juniors  line as far as chase elements go. The first Alexis Lafreniere autograph memorabilia card, it's limited to 125 copies. Even if there's more limited appeal for juniors sets, that's not a big number and Lafreniere transcends usual demand.
Even without a huge memorabilia window, many of the cards do have multi-color swatches.
Buy on: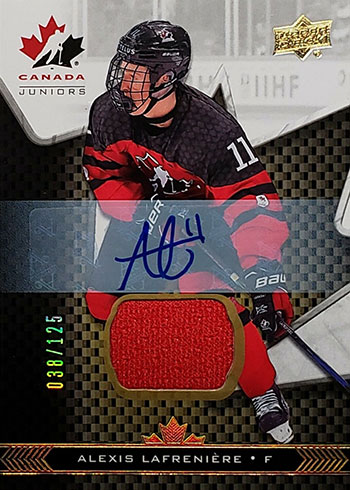 ---
2019 Upper Deck 30th Anniversary Diamond Relics Alexis Lafreniere #30TH-AL /30
To help celebrate their 30th anniversary in 2019, Upper Deck included special Diamond Relics cards as surprise inserts in many of their sets that year. Limited to 30 copies like the rest of the set, this Alexis Lafreniere card has a pair of diamonds. It's found in packs of 2018-19 Upper Deck CHL Hockey.
Buy on: