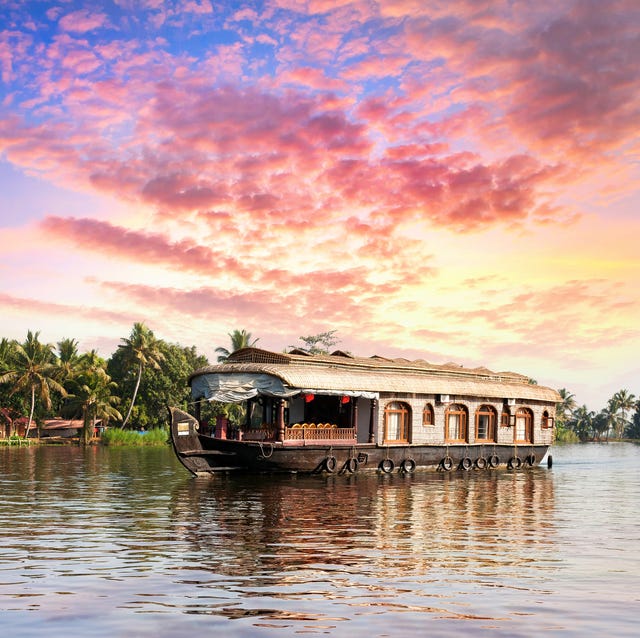 byheavenGetty Images
Cruise holidays just get better each year, with luxurious new ships to explore, exciting destinations to discover and amazing experiences you don't expect to have at sea.
2020 is no different and cruisers can expect river cruises with Strictly Come Dancing stars for a themed cruise holiday you'll never forget, sailings at sea that take in the most breathtaking natural phenomena (we're looking at you, Japan) and authentic adventures on water – think making your way through Asia's winding Mekong River.
However you like your cruise, there's a trip for you and next year's sailings are all about travelling with celebrities for a star-studded trip, visiting local villages to get a real taste of a location and experiencing world-famous attractions through the eyes of the experts.
From the Netherlands to Kerala, these are the 2020 cruises you'll want to check out right now…
Advertisement – Continue Reading Below
1
For a Strictly-themed cruise
Discover the Danube with Dame Darcey Bussell
Good Housekeeping Holidays
£2,195.00
Strictly Come Dancing fans can relive the magic of the show on a European river cruise with former judge and legendary ballerina Dame Darcey Bussell. From visiting classic cities like Budapest and Vienna to attending a drinks party hosted by Darcey, it's set to be a cruise holiday to remember.
Take to the Danube River with the Strictly star for an eight-day trip that includes an all-inclusive sailing and exclusive dance performance in Vienna.
2
For an Asian adventure
Cruise the majestic Mekong with GH
Good Housekeeping Holidays
£2,895.00
If wildlife, UNESCO-protected wonders and learning local traditions are your thing, the majestic Mekong River is the cruise destination for you. Passing through Cambodia and Vietnam, a river cruise offers a slow way of seeing local life as you visit incredible places like Angkor Wat, Siem Reap and Ho Chi Minh City along the way.
During a dream holiday to Asia over 15 days, you'll explore the culture of the two countries while sleeping in beautiful hotels and on a world-class small ship.
3
For a one-of-a-kind trip to Amsterdam
See Amsterdam's tulips with Gardeners' World stars
Good Housekeeping Holidays
£1,695.00
You may have visited Amsterdam before but not like this. On a once-in-a-lifetime cruise to the Dutch city, you'll be joined by TV garden experts Carol Klein and Joe Swift for a visit to the world-famous Keukenhof Gardens. Accompanied by the gardening pros, you'll hear their tips and tricks while wandering the stunning site. 
During the eight-day tour, you'll also visit the windmills of pretty Arnhem, be wowed by trendy Rotterdam and venture to Belgium to pick up some tasty chocolate.
4
For a cruise holiday with a difference
Discover the treasures of Kerala and Karnataka
Good Housekeeping Holidays
£2,450.00
Not every cruise holiday has to be about getting about on a big ship. If you're after a more traditional and boutique experience, a trip to South India allows you to experience sleeping on an authentic houseboat, where you'll while away the hours taking in the slow pace of Kerala. 
Experience the regions of Kerala and Karnataka over 11 days, as you soak up the wildlife on safari, visit small villages and marvel at opulent palaces.
5
For foodies
Taste France's foodie treasures with Michel Roux Jr and Tom Parker Bowles
Good Housekeeping Holidays
£1,995.00
Gourmands, this one is for you. Ever dreamed of visiting the delectable destinations of France's Rhone region while sampling the tastiest food and wine around? On a 2020 river cruise in the gastronomic setting, you'll not only do this but get to meet culinary experts Michel Roux Jr and Tom Parker Bowles too.
Over eight days, there'll be market visits, cooking demonstrations and, of course, trips to stunning places like Avignon and Arles.
6
For a beautiful natural event
See Japan's spectacular cherry blossom displays
Good Housekeeping Holidays
£3,749.00
OK, technically this isn't a 2020 cruise but if you want a spot to see Japan's breathtaking cherry blossom you need to get in early and this 2021 tour of the country's gorgeous spring event is one you won't want to miss.
From buzzing Tokyo to Mount Fuji, Kochi and even South Korean city Busan, this 14-day cruise around Japan is a wonderful way to take in the country at its most splendid time of year.
Advertisement – Continue Reading Below