Mark Russell is a captain with over two decades of experience at sea. He has sailed the waters in and around Croatia many times. He is a dual UK and USA citizen and enjoyed many years as a recreational sailor. He completed a degree in Marine Biology and was formerly a professional diver and diving instructor. He began working on luxury yachts as a diving operations manager, then as a crew member and now takes the helm as captain.
Mark Russell
I've been working on Luxury Private Charter boats for over 12 years now, but I've been at sea for more like 20. I know pretty well the route from Budva, Tivat and Kotor in Montenegro, up to Trogir and Split in Croatia, taking in Korcula, Miljet, Hvar.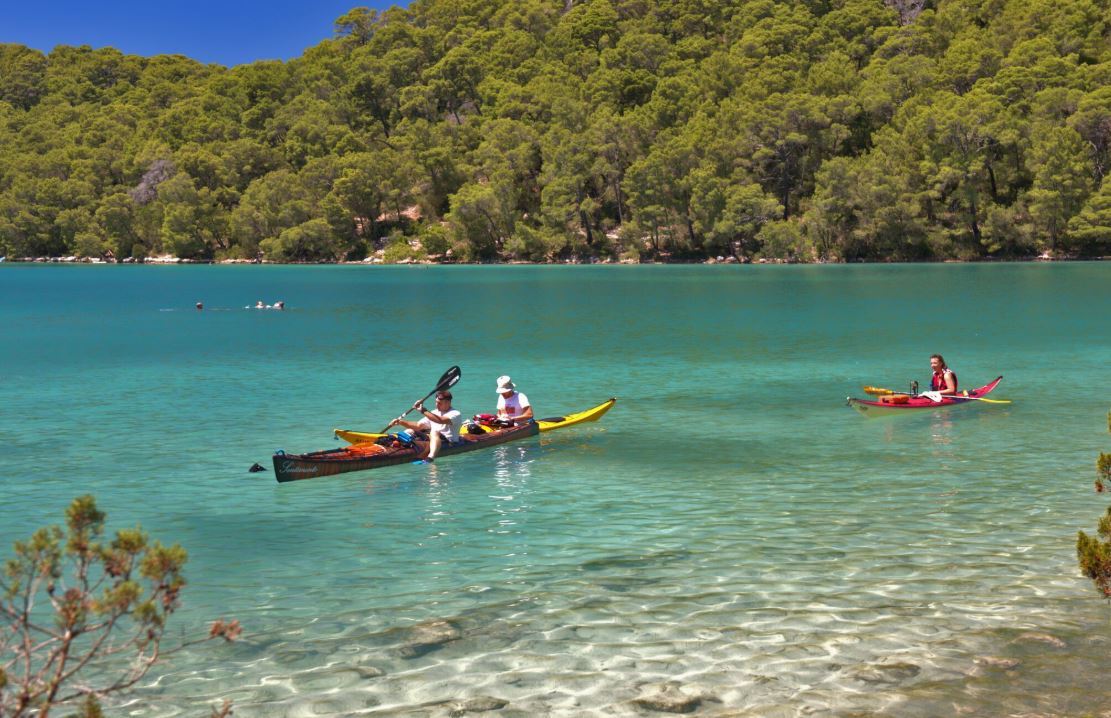 Mljet National Park
Mlijet is lovely, a national park. It's nice and quiet. Hvar is really a party place, but the advantage of seeing it by boat is that it also has lovely little islands close by and they're nice. Korcula is one of my own favourite spots, a stunningly well preserved Venetian town. It's great for kitesurfing there, they have some strong winds there, sometimes dangerously strong actually. You can find some really, really good white wines all around there.
Trogir is absolutely beautiful, for me the best preserved medieval city in Europe. It's also very close to the airport, so it's easy to travel at the start or end of any sailing trip. Split is also beautifully well preserved, but obviously a great deal bigger. There's quite a lot going on there. Dubrovnik is great to see, both from the water and on land, walking around the old city walls. You can do a really nice kayaking run there too, exploring the cliffs. Cavtat is also very nice.

Trogir
June is a little early in my opinion, the water is still a little chilly. In July and August, it gets warm, a good time to go, but it's also very busy. September is my favourite month to be there; the waters are still warm but the crowds have gone.
The advantages of sailing with a skipper rather than sailing by yourselves? You can get drunk all day long, without worrying about being in command of a vessel, hah! But really, if you have a boozy lunch, it's a pain to then pull the anchor up, set the sails, cruise around being responsible and then dock. Also, you don't have to worry about the responsibilities of reading the weather. And you get the advantage of some expert local knowledge. Someone who sails only a few weekends a year is not going to have the same instincts and knowledge. Also, if something breaks or needs repairing, you have someone there who knows what to do and might be able to fix it quickly.
The best kind of passengers? Usually, they are families who want to have a good time; explore, play, have fun. The ones who I feel don't get so much out of a trip are those who spend the whole time on their laptop or phone. Some seem to act as though a sailing trip is an inconvenience to their business life. It can be difficult to try and make people like that happy. Passengers who keep odd hours can be quite difficult on the crew; spending all day working and then having passengers stay up all night can stretch you a bit thin.
What can people do prior to their sailing holiday to ensure they get the most out of the trip?
Do a bit of research about points and places of interest. Maybe a little awareness about the weather is a good idea, so you make sure you have the wind behind you or on the beam. That can help in managing expectations about the order in which you are best able to visit places. Having a certain flexibility is really helpful. Quite often the people who seem to get the most out of a trip are the ones who are keen to get off the boat the most, the ones who go and explore. Eating out, trying the local food and drink is for me an essential part of any trip in Croatia. The quality of things like olives, cheese, seafood and wine there is incredible. Perhaps the number one suggestion though is for people to pick their shipmates wisely, haha. That will definitely have the most impact on how much fun you have. If you're going to spend a week on 40 foot of fibreglass with someone, constantly eating and sleeping together… it only takes one negative person to bring the whole group down. You can't really walk away from anyone you bring with you, you're stuck there with them for the entire duration.
What other experience have you had on boats?
I've previously worked on an 80-metre expedition yacht which was a converted ocean-going tugboat. I was diving operations manager on that and it was in the South Pacific. Alongside my fellow crew members, I currently hold the round the world power speedboat record; we circumnavigated the globe in 60 days in a carbon fibre trimaran powerboat called Earthrace. I was a captain for Sea Shepherd, an anti-whaling and marine life protection organisation. I just finished a season at the helm of a 40-metre charter boat with nine crew. This year we travelled mostly in the central Mediterranean, Italy, France, the Balearics, Corsica, Sardinia, but I've made lots of trips to the Aegean and Adriatic too. I worked for a teen summer camp in the Virgin Islands on a 45-foot sailing boat, a catamaran with three crew. We taught them how to dive and sail. I've worked as a diving instructor too in Plymouth, where I also did my degree in Marine Biology. Plan A was to work in that field, plan B was to work in a local diving centre. I finally got a job in Marine Biology but found myself spending all summer looking through a microscope. That's when I thought 'Maybe this isn't for me?' ha! I've also spent a lot of time on small sailing boats because my dad was a very keen sailor.

World record holding powerboat Earthrace